---
Whiteridge is very excited to offer in house decoration on our great products.
If you have any questions, please do not hesitate to contact us HERE
Laser Patch
The ultimate in perceived value decoration, Whiteridge introduces our Laser Patch decoration. Combining use of synthetic leather and laser decoration techniques, we can offer you a custom shape, custom printed label patch for your next project. Bags or apparels, if you can embroider it, you can patch It For best results, artwork should be in a vector format (.AI, .EPS).
---
Pour la décoration de plus haute valeur perçue , Whiteridge introduit notre décoration de Laser Patch . Combinant l'utilisation des techniques de cuir synthétiques et la décoration laser , nous pouvons vous offrir une forme personnalisée et un logo personnalisé sur un patch pour votre prochain projet . Sacs ou vêtements , si vous pouvez broder , vous pouvez patcher! Pour de meilleurs résultats, les dessins doivent être en format vectoriel (.AI, .EPS).
Embroidery
High density decorative stitching on fabric that evolved from handwork to today's high-speed, computerized multi-head machines. With state of the art embroidery equipment, thread and digitizing software, we can embroider artwork and logos onto a wide range of apparel, bags and promotional products.
Embroidery Digitizing: Digitizing or Punching is the process of converting artwork into digital data that tells a computerized embroidery machine how to move during the embroidery process.
---
Autrefois faite à la main, la broderie décorative sur le tissu est maintenant réalisée à haute densité sur des machines multitêtes informatisées à haute vitesse. Grâce à des équipements de broderie avant-gardistes, de même qu'à des logiciels d'enfilage et de numérisation, nous pouvons broder des dessins et des logos sur une grande gamme de vêtements, de sacs et de produits promotionnels.
Broderie numérisée : La numérisation ou le poinçonnage est le processus de conversion de dessins en données numériques, qui indique à une machine à broder informatisée comment se déplacer durant le processus de broderie.
Sublimated Patches
Sublimated patches are great for intricate graphics or ones with subtle shadings. A computer printer uses heat to directly transfer dye into the fabric to produce a photo-realistic effect. This is the same process used to create photo mousepads or puzzles. The text, design, or photo is permanently dyed into the cloth of dye sublimation patches. Though dye sublimation patches do not have the same 3-D texture as embroidered patches, they are able to more accurately reproduce the extremely fine details featured in photos or other designs.
---
Patchs sublimés sont parfaits pour les graphiques ou ceux avec des nuances subtiles complexes . Une imprimante utilise la chaleur pour transférer directement colorant dans le tissu pour produire un effet photo-réaliste . Ce processus est le même utilisé pour créer des tapis de souris de photo ou des puzzles. Le texte , la conception, ou la photo est teint de façon permanente dans le tissu des correctifs à sublimation. Bien que les correctifs à sublimation thermique ne possèdent pas la même texture 3 - D sous forme de plaques brodées , ils sont capables de reproduire plus fidèlement les détails extrêmement fins en vedette dans des photos ou d'autres motifs.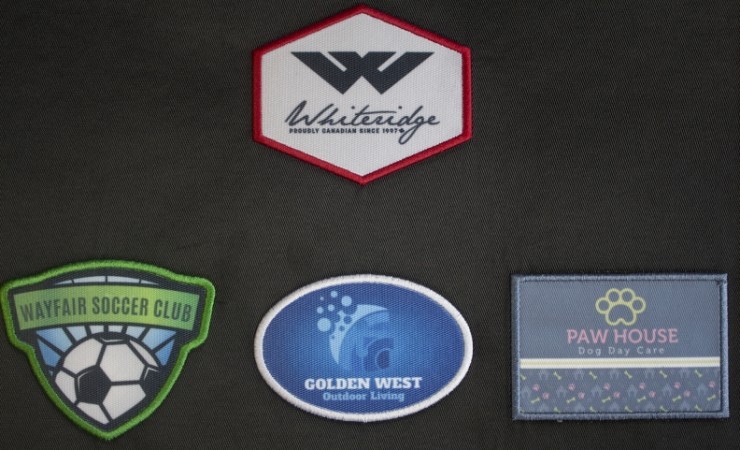 Heat Transfer » Digital CAD-print
Combining the durability of heat transfer vinyl with the ability to produce high-quality images, this method involves using a printer/cutter to produce a digital image which is then weeded and heat applied. Designs can be full color logos and can have a basic die cut shape around them. Great for low-quantity jobs, durable full color images can be applied to garments and accessories of any color.
For best results, artwork should be in a vector format (.AI, .EPS).
---
Cette méthode combinant la durabilité du vinyle pour thermotransfert à la capacité de produire des images de haute qualité fait appel à une imprimante découpeuse pour produire une image numérique ensuite nettoyée et appliquée à la chaleur. Les dessins peuvent être des logos pleine couleur ou des illustrations entourées d'une forme bien définie. Idéale pour les commandes à faible quantité. Les images pleine couleur peuvent être appliquées sur des vêtements et des accessoires de n'importe quelle couleur.
Pour de meilleurs résultats, les dessins doivent être en format vectoriel (.AI, .EPS)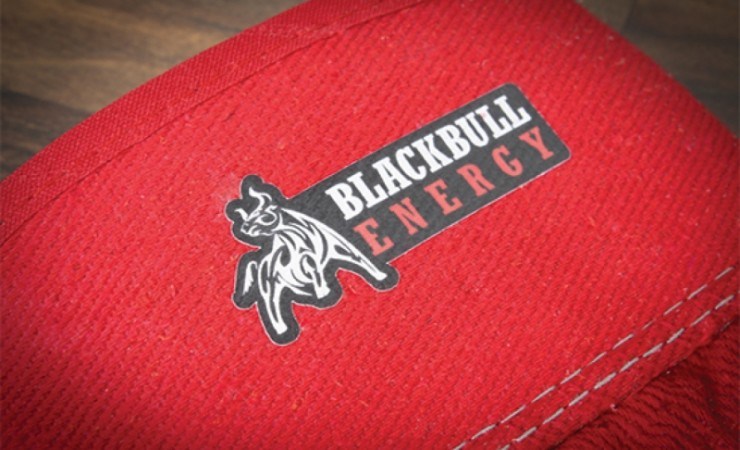 Deboss/Emboss
This decoration creates raised (embossed) or sunken (debossed) designs on the fabric surface. Both of these decorative effects work well with leather, soft shell materials, synthetic materials and many other fabrications. The impression made is permanent and will last the lifetime of the product. This process provides a great option for decorations with small precise details of which you want a subtle look.
---
Cette technique de décoration permet d'imprimer des dessins en relief ou en creux sur la surface du tissu. Ces deux effets décoratifs conviennent bien au cuir, aux tissus imperméables légers, aux matières synthétiques et à de nombreux autres types de fabrication. L'impression ainsi créée est permanente et durera aussi longtemps que le produit. Ce processus est une bonne option pour les décorations comportant de petits détails précis auxquels vous voulez donner une apparence subtile.